Description
A combo filter with granular activated carbon (GAC)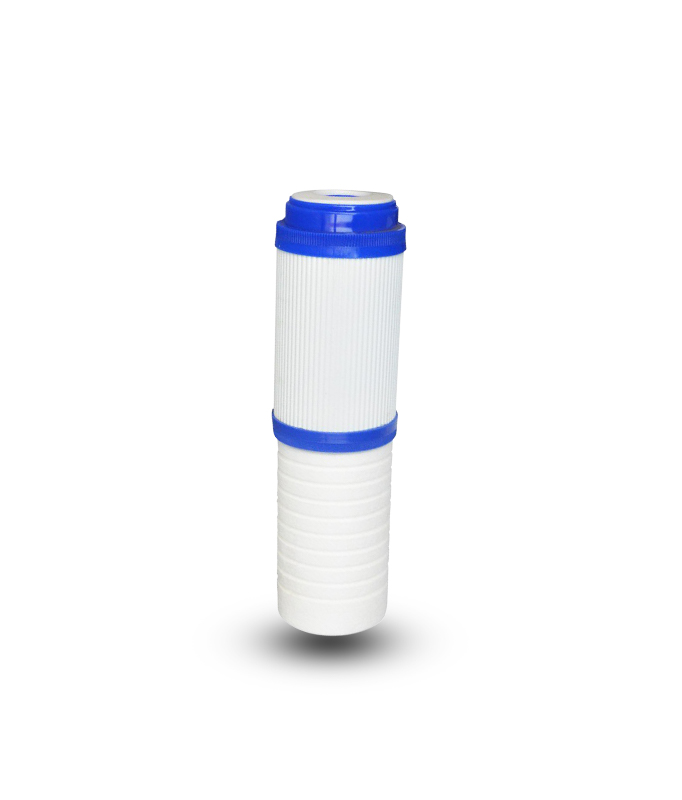 A combo filter with granular activated carbon (GAC)
A combo filter with granular activated carbon (GAC) is a proven option to remove certain chemicals, particularly organic chemicals, from water.  GAC filters also can be used to remove chemicals that give objectionable odors or tastes to water such as hydrogen sulfide (rotten eggs odor) or chlorine. However, other chemicals, like iron and nitrate, are not attracted to the carbon and are not removed and another type of filter, such as reverse osmosis (RO) or green sand may be needed.  RO filters will also remove certain organic chemicals. This information only addresses GAC filters. Granular activated carbon is made from raw organic materials (such as coconut shells or coal) that are high in carbon. Heat, in the absence of oxygen, is used to increase (activate) the surface area of the carbon; this is why these filters are sometimes referred to as "charcoal" filters. The activated carbon removes certain chemicals that are dissolved in water passing through a filter containing GAC by trapping (adsorbing) the chemical in the GAC combo filter. It is very important that the type and concentration of contaminants, and average water use, be known in order to determine the correct size and components of the system. All treatment systems require proper installation and periodic maintenance. Eventually, the ability of the GAC to bind and remove chemicals is used up and the GAC needs to be changed. How often the GAC should be changed needs to be based on contaminant levels and water use. While some filters may last for several years if contaminant levels and/or water use are low, higher levels or use may require more frequent change-outs.
What is granulated activated carbon (GAC) and what is its main purpose?
Granular activated carbon (GAC) has a huge surface area resulting from its extreme porous structure. Granular Activated Carbon (GAC) filters effectiveness depends on the flow rate and contact time with the water. If the flow rate is very high their efficiency could drop to as low as 0% but if the flow rate is slow their efficiency can even exceed those of various different carbon forms.
What are the advantages of GAC vs. other forms of carbon?
For its primary function of taste, odor, and chemical reduction GAC is cheaper, very effective, and can be re-used. Filter Media: Coconut Shell, Fruit Shell or Anthracite (Coal) Activated Carbon+Polypropylene Length: 10inch Micron Rating: Nominal 1um or 5um Filtration Life: 3-6 months or 2500gallons (Depending on water quality and level of contaminants) Max. Operating Pressure: 80psi Max. Flow rate: 2.5GPM Max.Operating temperature: 52℃